4 Pc Bundle
Regular price
$113
Sale price
$79
Unit price
per
Three of our best-selling skincare heroes, now in one bundle. Add these to your routine for brighter, firmer & more even-looking skin. Kit includes:
Slushy Serum Moisturizer
Bright & Tight Eye Cream
Green Machine Vitamin C Serum
FREE Limited Edition Teddy Bag
🛍️ New customers get 15% off $60+
Code: NEW15
Description

Get a brighter, smoother & more even looking complexion with 3 of our best-selling skincare favorites. Slushy moisturizes dehydrated skin, Green Machine improves the look of dark spots while Bright & Tight visibly brightens & tightens the undereyes. Add in our fan-favorite teddy bag? We're sold!
Ingredients

Slushy Serum Moisturizer:

Bakuchiol: Known as a plant-based retinol alternative that helps refine pores, smooths the look of fine lines, uneven texture & calm the look of breakouts.
Hyaluronic Acid: a super hydrator, holds 1000x its weight in water. Plumps skin for a dewy, gorgeous bounce.
Yuzu: high in vitamin C & anti-oxidant properties, visibly brightens skin.

Bright & Tight:

Vitamin C: 3 types of Vitamin C (tetrahexyldecyl ascorbate, ascorbyl glucoside, & 3-o-ethyl ascorbic acid) visibly brighten.
3% Tranexamic Acid: Visibly reduces hyperpigmentation for a brighter, more awake under-eye.
Bakuchiol + Peptides + NovoRetin: Visibly reduces wrinkles (in 30 min) while smoothing the under-eye & preventing thinning of the skin.
Cedar Bark + Caffeine: Clinically proven to improve microcirculation reducing pooling & oxidation of old blood under the eyes.

Green Machine:

1% Highly Stable Vitamin C (tetrahexyldecyl ascorbate): stable form of vitamin c; shown to reduce the appearance of wrinkles & improve skin brightness.
15 Superfoods: 15 green superfoods full of vitamins, minerals, phytonutrients & omega fatty acids that nourish & visibly transform skin. Kale, spinach, spirulina, hemp, avocado, green tea, aloe, cucumber, moringa, holy basil, vegan collagen, thyme, oregano, algae and ginkgo biloba.
250K Sustainable Plant Stem Cells: sustainably sourced from the sea fennel plant; help boost appearance of luminosity, improve the look of firmness & reduce the appearance of wrinkles.
Azelaic acid: helps reduce the look of hyperpigmentation, uneven texture & tone.
Pomegranate Stem Cells: helps reduce the look of hyperpigmentation, shown to be 20x more effective than kojic acid.
Benefits

Slushy: Bakuchiol (plant based retinol) is spun at high speeds into a hyaluronic acid serum creating a slushy-like texture. This texture provides skin with the benefits of a serum and a moisturizer, in one. Hyaluronic acid quickly hydrates while bakuchiol helps clear & clarify the look of skin while smoothing the look of lines and wrinkles.

Bright & Tight: An eye cream that immediately makes it look like you got a full 8 hours of sleep. Optical brighteners immediately brighten & illuminate the under eye, while clinically proven ingredients work to diminish the look of dark circles & wrinkles over time.

Green Machine: Think of Green machine as your topical liquid skin vitamin for the appearance of brighter, firmer, smoother looking skin. What's so special about oil/jelly? It acts like both a serum penetrating deep & fast AND an oil, nourishing the skin barrier, in one easy step.
How to use

Slushy Serum Moisturizer: Apply 2-3 pumps on clean skin. Massage and let absorb into the skin. Slushy can be used as a serum, moisturizer or both. For extra-dry skin you can layer Slushy under 10+10 MORE-Sturizer.

When to use: You can use Slushy in the morning and evening.

Slushy hacks:

Keep it in the fridge for extra cooling & refreshing benefits.
Mix your favorite foundation with 1-2 pumps of Slushy to create the perfect, silky tinted moisturizer. Your skin will look hydrated, dewy & plump with a hint of coverage - perfect for summer.

Bright & Tight: Apply a half of a pump of Bright & Tight 360 degrees around each eye & gently massage in.

Green Machine: Apply 3-4 drops or more to clean skin after you cleanse & tone. Apply onto hands or directly onto your face and massage in. Green Machine can be used day & night.
Watch It In Action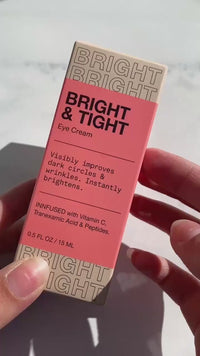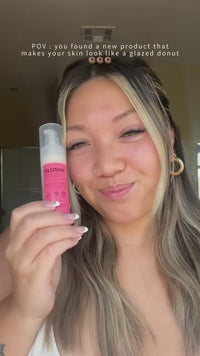 View full details